WhatsApp channel Red Bull KTM Factory Racing | MotoGP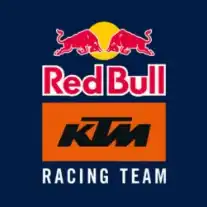 ---
Red Bull KTM Factory Racing | MotoGP 🏍️
Welcome to the official WhatsApp channel of the Red Bull KTM Factory Racing MotoGP team! 🧡
Our Riders 🌟
Brad Binder 🇿🇦 (#33) - Experienced South African bringing his calm consistency to the KTM for a 3rd season.
Jack Miller 🇦🇺 (#43) - Aussie fireball with 7 GP wins signed from Ducati to take KTM to the next level.
2023 Season 🏁
Follow Binder and Miller on their thrilling journey this season aboard the KTM RC16. From pre-season testing to race weekends, we'll bring you:
🛫 Travel diaries from every GP destination
📸 Behind-the-scenes garage access
🏟️ Live trackside updates during practice, qualifying and races
🏆 Race reviews, insights and celebrations
Get the inside view of our passionate team striving for success. We'll take you into the heart of the box with race strategies, bike data and our riders' perspectives.
Join the Family 🧡
Our fans worldwide are the heart and soul of our team. Let's come together and share the passion for racing. We want to see where you're watching from with flags and engage with your messages.
Become part of the KTM family. Support Binder, Miller and the entire team on this exciting 2023 journey. Let's make some motocross magic!